Blackheads are stubborn. And I know that you will agree with me on this. Even if you squeeze them out, these bad boys refuse to leave and somehow manage to reappear. The only way to get rid of them is by regular exfoliation. While there is no dearth of blackhead scrubs and exfoliators in the market, how do you know which one can keep them away for good? Let me help you with that. Here's a low-down on the scrubs and products that are pretty effective in keeping blackheads from popping up often.
1. Clean And Clear Blackhead Clearing Daily Scrub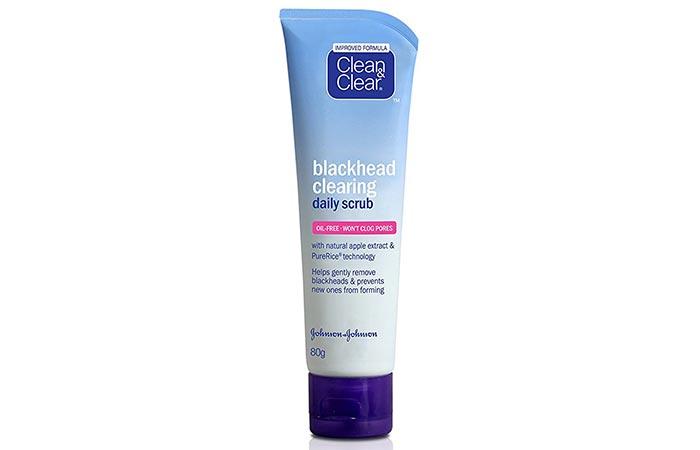 The product claims to give you long-lasting results. It contains jojoba extracts and quick Active Break Up complex acids that start working on blackhead removal right from the first use. The scrub contains microbeads that remove dead skin cells, which makes your skin feel revitalized. It also has apple extracts that help in maintaining the pH balance of your skin.
Pros
Easy to handle container
Mild smell
Reduces blackheads
2. Kama Ayurveda Kumkumadi Brightening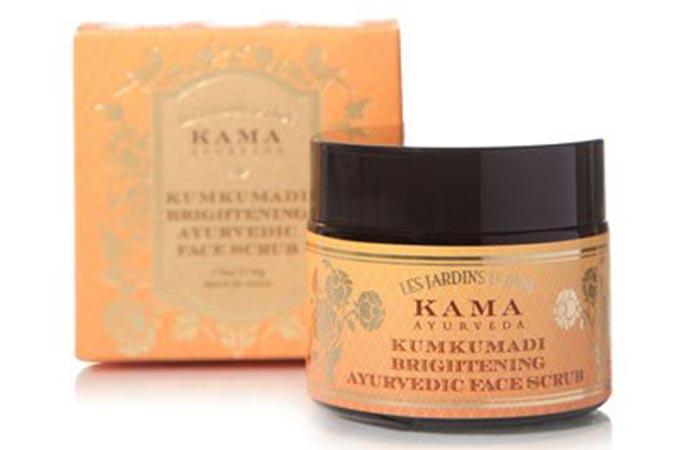 Formulated with kumkumadi oil, this scrub contains goat's milk, sesame oil, licorice and saffron extracts, and many other natural extracts. These ingredients, along with walnut extracts, clean your skin, unclogging the pores and reducing the appearance of blackheads, whiteheads, blemishes, and pigmentation.
Pros
Contains natural extracts
Is very effective
Doesn't irritate the skin
Most Suitable For
All skin types
3. Lotus Herbal Apriscrub Fresh Apricot Scrub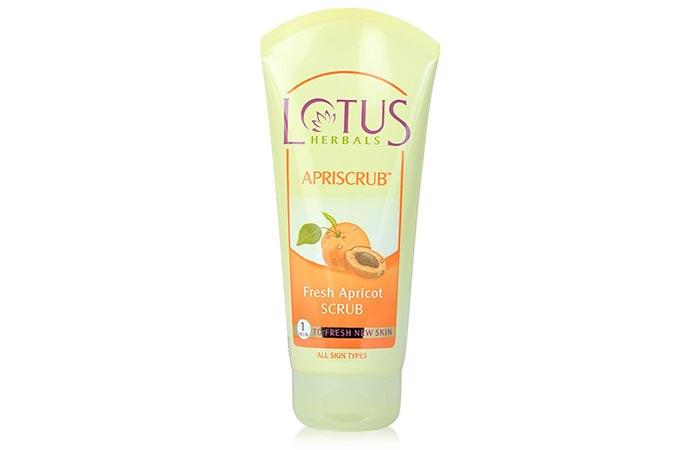 Product Description
Packed with the goodness of apricot extracts, this scrub gently exfoliates your skin, getting rid of the dead skin cells and revealing soft and glowing skin. The product claims to contain vitamin C that keeps your skin moisturized, reduces the appearance of blackheads and wrinkles, and improves skin elasticity.
Pros
Gentle
Removes blackheads effectively
Herbal
Pocket-friendly
4. Neutrogena Deep Clean Blackhead Eliminating Daily Scrub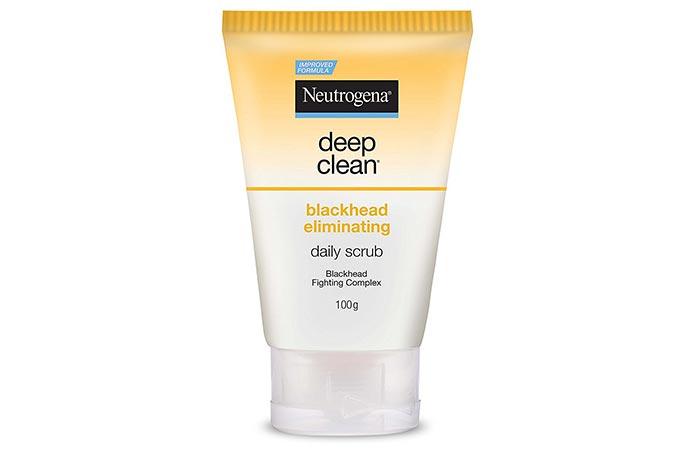 Product Description
This product contains beta-hydroxy acid that clears excess oils and dirt from the skin. It has skin conditioning beads that soothe your skin, and its "blackhead fighting complex" gets deeper into your skin to remove blackheads. The cedarwood extract prevents them from popping up again.
Pros
Mild
Non-abrasive
Cleans the skin thoroughly
5. Jeju Volcanic Lava Pore Scrub Foam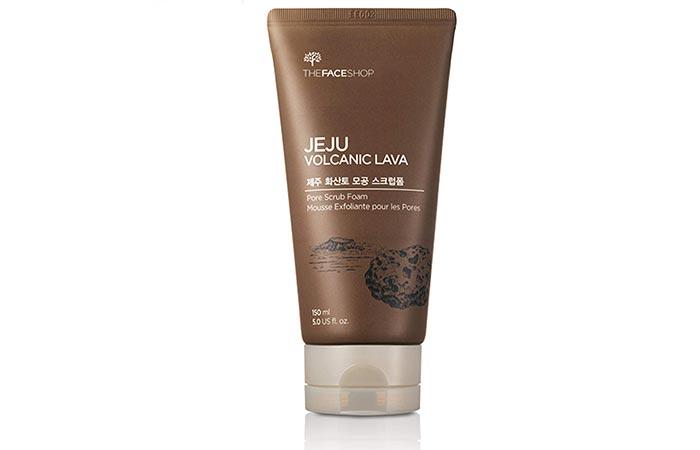 Product Description
The product claims to absorb the excess sebum and keep your skin oil-free, reducing acne and pimples. This purifying scrub foam contains the volcanic ashes from Jeju island. It deeply cleans the pores, reducing blackheads and whiteheads.
Pros
Contain volcanic ash
Contains jeju mud extracts
Removes dirt and clears the pores
Non-irritant
6. Lotus Whiteglow Oatmeal and Yogurt Skin Whitening Scrub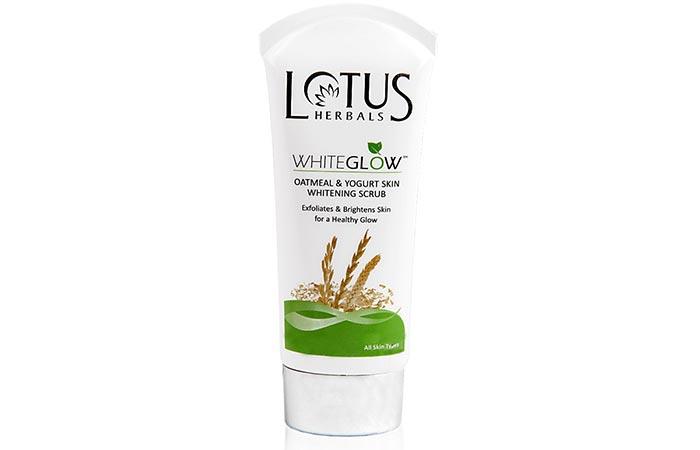 Product Description
The product claims to remove both blackheads and whiteheads effectively. Infused with the goodness of yogurt and oatmeal enzymes, the gentle exfoliation offered by the product is suitable for all skin types. It not only removes dirt and blackheads but also brightens your face.
Pros
Immediate results
Mild
Smells refreshing
7. Biotique Bio Papaya Revitalizing Tan Removal Scrub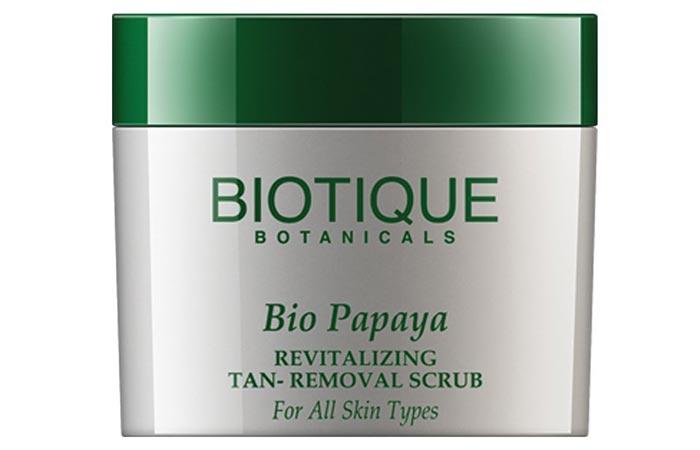 Product Description
Enriched with papaya extracts, this scrub removes the dead cells and stubborn blackheads. This anti-tan scrub contains natural ingredients, such as papaya, methi, beeswax, ban haldi, aam beej, Himalayan water, and gun acacia, along with phytochemicals and minerals.
Pros
Removes blackheads
Makes your skin glow
Has a mild fragrance
8. VLCC Indian Berberry Face Scrub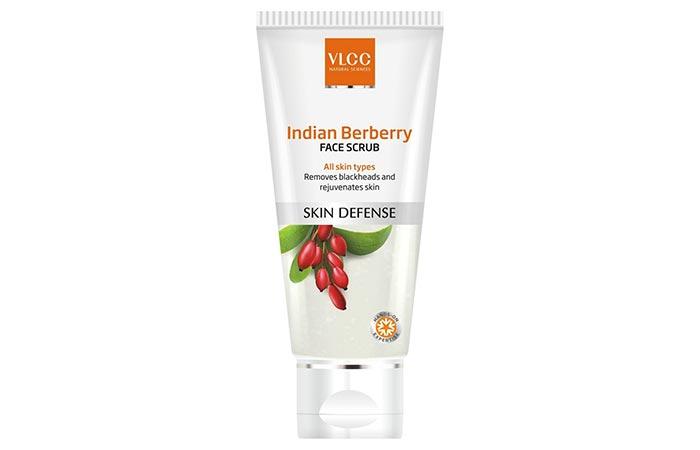 Product Description
This product contains the extracts of Indian berberry, papaya seed, and neem extracts that rejuvenate your skin. The small granules of the scrub exfoliate your skin, extract the blackheads, and remove all dullness from your face.
Pros
Alcohol-free
Natural extracts
Small granules
9. St. Ives Blackhead Clearing Green Tea Scrub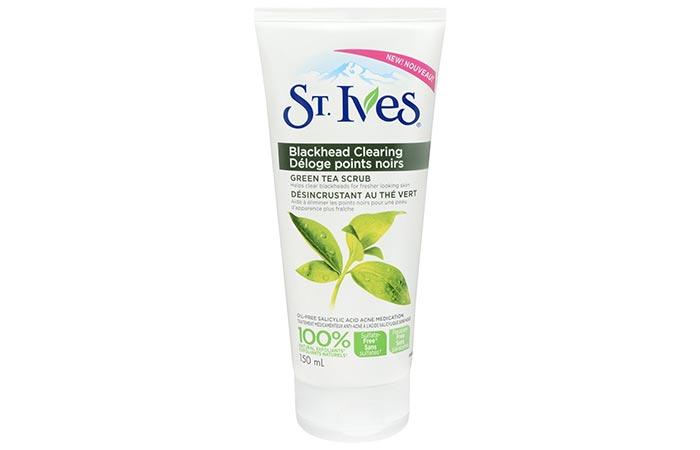 Product Description
This product contains natural extracts and exfoliants that gently clean your skin and remove blackheads. It contains olive oil, green tea, and silica. It also helps in reducing irritation and inflammation due to acne. All the ingredients used are dermatologically tested.
Pros
Mild
Very effective for removing blackheads and whiteheads
Non-irritant
Paraben-free
10. Fabindia Neem Tulsi Face and Body Gel Scrub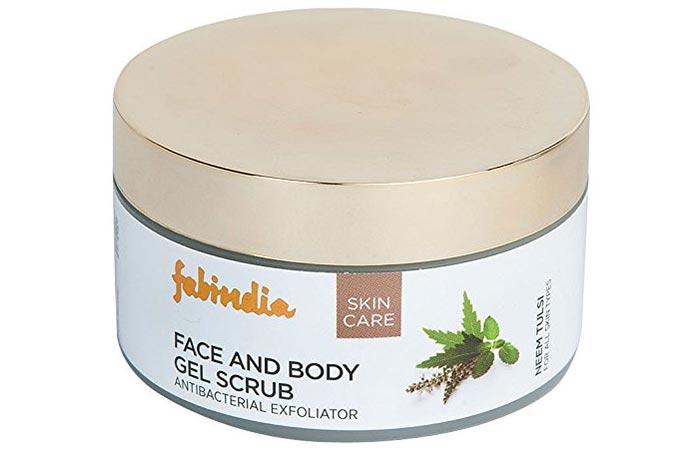 Product Description
This is a gel-based scrub containing walnut, tulsi, and neem extracts (you can see the crushed neem leaves in it). The product claims to clear dead skin cells, reduce inflammation, clear blackheads and whiteheads, and make your skin glow.
Pros
Gentle on the skin
Very effective
YOU MAY ALSO LIKE OUR FACEBOOK PAGE FOR TRENDING VIDEOS AND FUNNY POSTS CLICK HERE AND LIKE US AS INDIAROX