6 Shocking and Most Haunted Places in Indore Which Are Scary for Anyone: We have heard a lot of spooky spirit or ghost stories from grandma and grandpa. These haunted and spooky stories come in our dream and scare us. Although our especially here at most haunted places in Indore which are very scary and most likely of heard. In India there are lots of palaces or forts or a beach has a history of those who died a painful death.
6 Shocking and Most Haunted Places in Indore Which Are Scary for Anyone
1. The Empty Building on MG Road
The MG road, which is located in Indore is one of the busiest roads in Indore. Peoples said that a few years ago a woman committed suicide, she jumped from this building. After this incident, local people considered this building is haunted by this lady ghost or spirit. Some residents claim that they heard strange noises and paranormal activities, so this building is empty.
2. Sukh Niwas Palace
The Sukh Niwas Palace is located in Indore and it was built by Raja Malhar Rao Holker. In his time, he was built many structures in his fame with a great admirer of culture and art. Sukh Niwas Palace is considered as a most luxury tourist locations and picnic spots in Indore. This Sukh Niwas palace is to be haunted one in the yesteryear.
3. Jahaz Mahal Mandav
The Jahaz Mahal Mandav is about 90 km away from Indore city. Mandav is famous for its palace and amazing fort, which contains the ornamented canals, pavilions, ruins of palaces, bath, etc. In the history of Mandav is the failed love story of Baaz Bahadur and Rani Roopmati. Local people still claims that their love reverberates through the walls in Jahaz Mahal and the fort.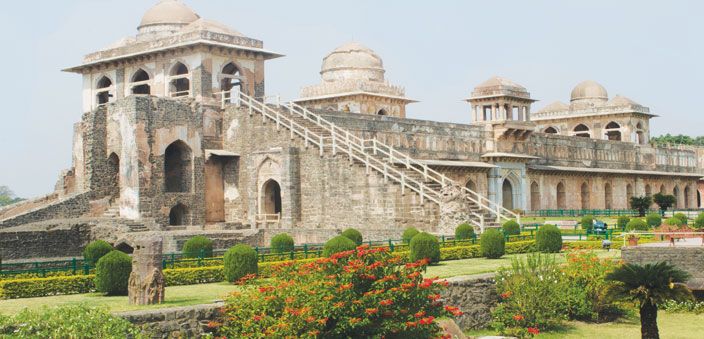 4. Lal Bagh Palace
The Lal Bagh Palace was built by Maharaja Shivaji Rao Holkar and it is one of the most heritage buildings in Indore. Visitors said that this palace is haunted by restless evil ghosts and spirits. Most of the visitors felt strange paranormal activities and strange voices of crying at late dark night or midnight from this palace. Due to this reason, nobody is allowed to enter after sunset and it is closed during the night.
5. Gamle Wali Puliya
This Puliya is a bridge lies which is located on the AB road near the IPS school in Indore. This Gamle Wali Puliya is said to be haunted by a woman ghost in white saree. In this area, there are high accidents occurred. Most of driver describes that a lady ghost in white saree distracted their driving and accident is associate.
6. Goma ki Phel and Kazi ki Chawl
In this Goma ki Phel and Kazi ki Chawl, there are large numbers of paranormal activities have been reported. A teenage girl was burnt by herself in February, 2015. Her family says that two other teenage girls convinced her to burn herself. Exactly similar case had occurred before in Goma ki Phel and Kazi ki Chawl, which is confirmed by other residents.
YOU MAY ALSO LIKE OUR FACEBOOK PAGE FOR TRENDING VIDEOS AND FUNNY POSTS CLICK HERE AND LIKE US AS INDIAROX