Justin Bieber just revealed that he's married in the sweetest way. In an Instagram post on Friday afternoon, Bieber confirmed that he and Hailey Baldwin are married, writing that this year was his "first Thanksgiving as a married man." His post is the first official confirmation from the couple that they did, indeed, already tie the knot.
Back in September, People reported that Bieber and Baldwin were married, though the singer and model didn't confirm the news for themselves. An unnamed source told the magazine at the time that the couple got married in New York City without telling anyone about the courthouse ceremony.
Based on his caption, it sounds like Bieber and Baldwin hosted Thanksgiving for both of their families this year, too. He wrote on Instagram,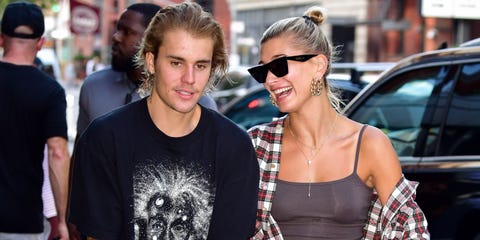 "Happy late thanksgiving to everyone. First thanksgiving as a married man, first time hosting thanksgiving. First time both sides of the family has come together."
In his Instagram caption, Bieber also thanked God, writing that his "grace is sufficient." He wrote,
"Relationships are hard and love isn't always easy but thank you Jesus for showing me how! Every day is a learning process, trying to be more like him, patient, kind, selfless, boy I got a long way! But gods grace is sufficient !"
Fans have been waiting for confirmation that the two of them were really married ever since the reports circulated that Bieber and Baldwin got a marriage license in New York in September. The state doesn't allow same-day weddings — couples have to wait at least 24 hours between getting a marriage license and tying the knot. But New York's marriage licenses do expire after 60 days, so fans have been eagerly waiting to hear marriage news from these two over the past couple of months.
At first, Baldwin seemed to deny the reports that she and Bieber were married, tweeting in September, "I understand where the speculation is coming from, but I'm not married yet!" The tweet has since been deleted, another clue that she's officially a married woman.