The Bihar Police is exploring the horoscope of 19 Hindu organizations, including the Rashtriya Swayamsevak Sangh, these days. In fact, it was sought by issuing a letter to the Superintendent of Police, on May 28. In this letter, the demand for complete information of the office bearers of 19 Hindu organizations including the Sangh has been sought.
It has not been confirmed that till now all reports of the district police have been sent to the headquarters or not. Still, the letter comes in front of the state's politics. There is no official response from BJP on this so far.
In this letter issued by the Special Branch, National Self Service Association, Vishwa Hindu Parishad, Bajrang Dal, Hindu Jagaran Samiti, Dharma Jagran Coordination Committee, Muslim National Forum, Hindu Rashtra Sena, National Service Committee, Education Bharti, Durga Vahini, Swadeshi Jagaran Forum, Indian Farmers Association, Indian Workers Union, Indian Railway Association,
All India Students Council, All India Teachers Federation, Hindu Mahasabha, Hindu Uwa duct, Hindu son organization bearers name, address, telephone seeking information on the number and occupation.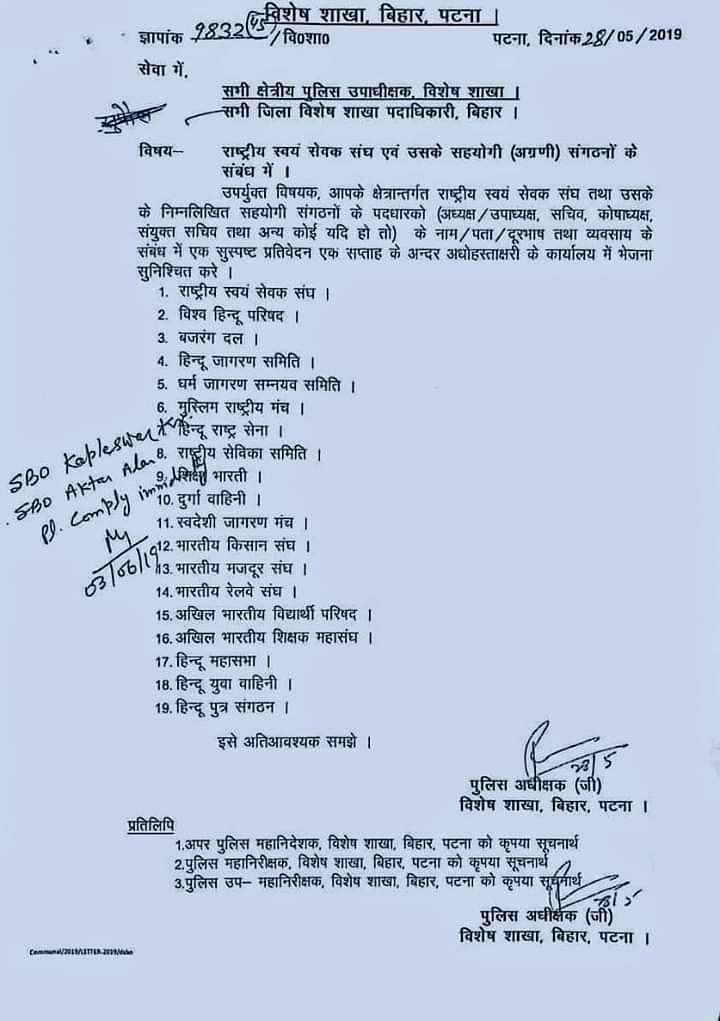 YOU MAY ALSO LIKE OUR FACEBOOK PAGE FOR TRENDING VIDEOS AND FUNNY POSTS CLICK HERE AND LIKE US AS INDIAROX